StarLadder to launch the first season of Gamestars League for Clash Royale players
National tournaments of Clash Royale Gamestars League will be held in 9 countries: Great Britain, Germany, Russia, Turkey, France, Poland, Ukraine, Kazakhstan, Sweden. Players from other European countries and the Middle East will have an opportunity to attend the Wild Card tournaments.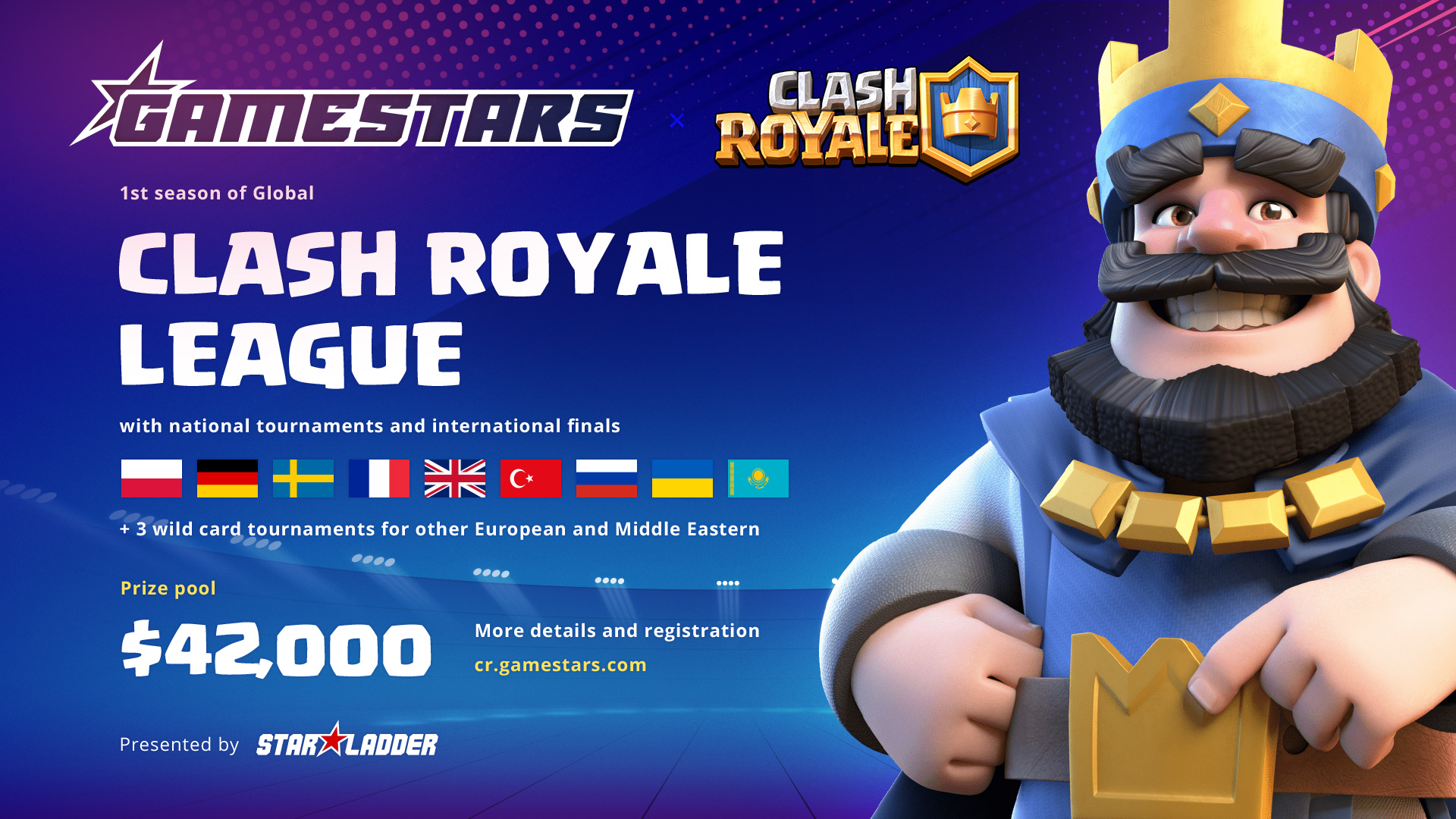 The best 32 players in Clash Royale will participate in the International group stage. And afterwards, 16 winners will get a chance to fight for the champion's title and a respect of fans in the first International Final. Due to the spread of COVID-19, all matches within the first season of GameStars League will be held online. The prize pool of season's final is amounted to $30.000. The winners of each national and Wild Card tournament will additionally share $1.000.
The structure of season of Clash Royale Gamestars League:
• 9 National Leagues и 3 Wild Card tournaments - the number of participants is unlimited
• 9 National Finals and finals of Wild Card tournaments - 8 players
• International group stage - 32 players
• International Final - 16 players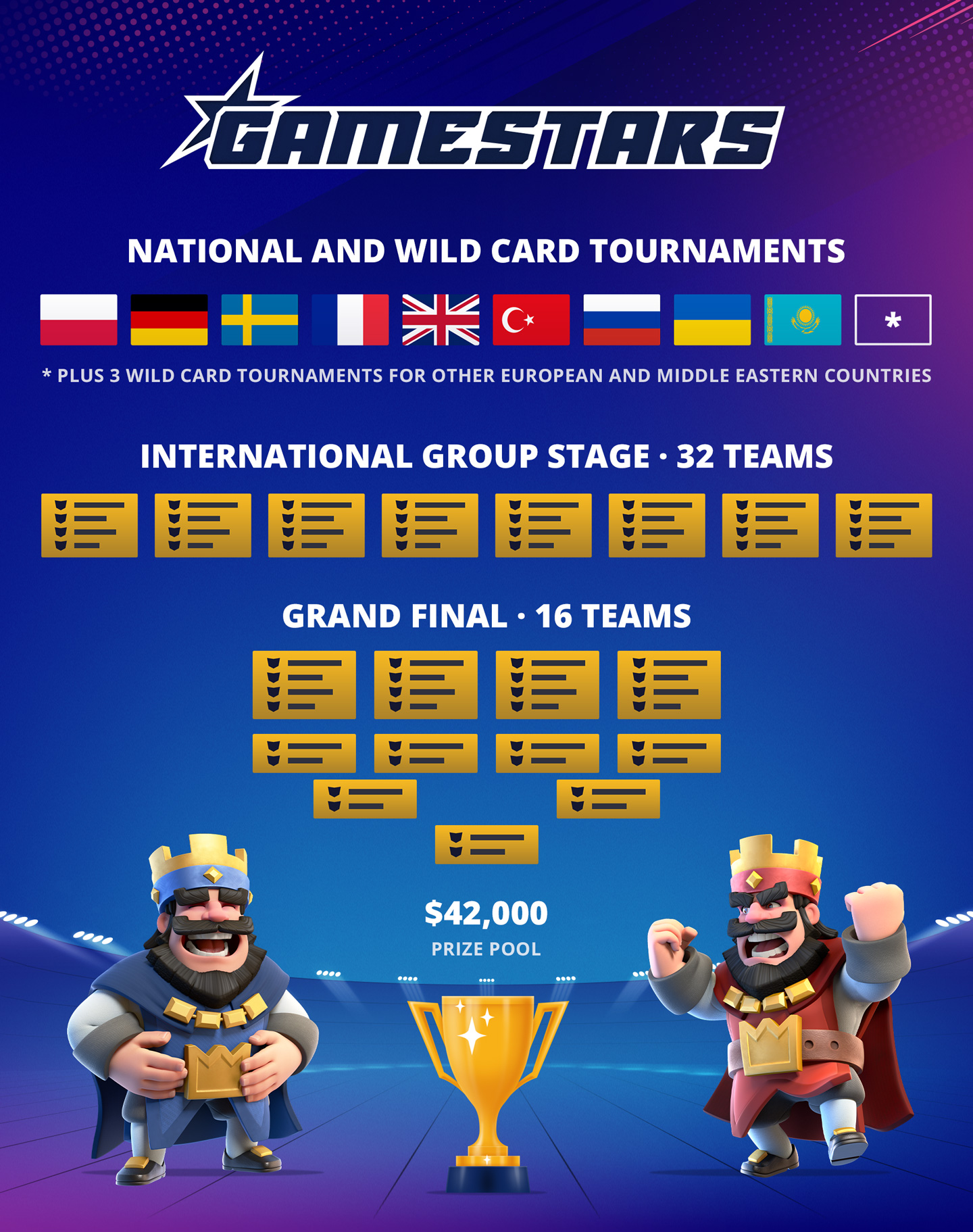 A sign-up for the first season of Clash Royale Gamestars League is open till March, 7th:
• Germany
• Poland
• Russia
• Turkey
• Ukraine
• France
• Sweden
• Wild Card #1

(Italy, Moldova, Albania, Austria, Switzerland, Czech Republic and Slovakia, Hungary, Romania, Bulgaria, Serbia and Montenegro, North Macedonia, Croatia, Slovenia, Bosnia and Herzegovina, Kosovo, Belarus, Greece, Cyprus, Malta)

• Wild Card #2

(Belgium, Luxembourg, Netherlands, Portugal, Spain, Andorra, Liechtenstein, Monaco, Norway, Denmark, Iceland, Finland, Lithuania, Latvia, Estonia)

• Wild Card #3

(UAE, Bahrain, Iraq, Yemen, Jordan, Qatar, Kuwait, Lebanon, Oman, Saudi Arabia)
Tournament dates of the Clash Royale Gamestars League:
• International group stage: April, 12th - May, 14th
• International Final: May, 19-23rd
A professional team of casters will be covering a broadcast of all international matches of the season on the official channels of the League:
The organizers of Gamestars League are offering a unique chance to hold a broadcast of matches on YouTube and TikTok to all those wishing. In order to apply, please contact us via the following mail: [email protected]
The official website of Clash Royale Gamestars League: clashroyale.gamestars.com
More information on the League.
* * *
About StarLadder — one of the leading tournament operators. The company is famous for its tournaments - StarSeries, and also closely collaborates with the leading game developers, global sponsors and media platforms. Only in 2019, StarLadder organized a series of global tournaments: Berlin CS:GO Major, Chongqing Dota 2 Major, PUBG Europe League, StarCraft II World Championship Series.
Clash Royale — game for mobile devices in the RTS genre with the Collectible Card Game elements, available for the devices on Android and iOS, released on the 2nd of March 2016 by the Supercell company. The gameplay is based on fights, within which you have to demolish the enemies' towers with the help of unique cards, as well to defend your own towers from the enemy. Is a part of the gaming universe with the Clash of Clans.